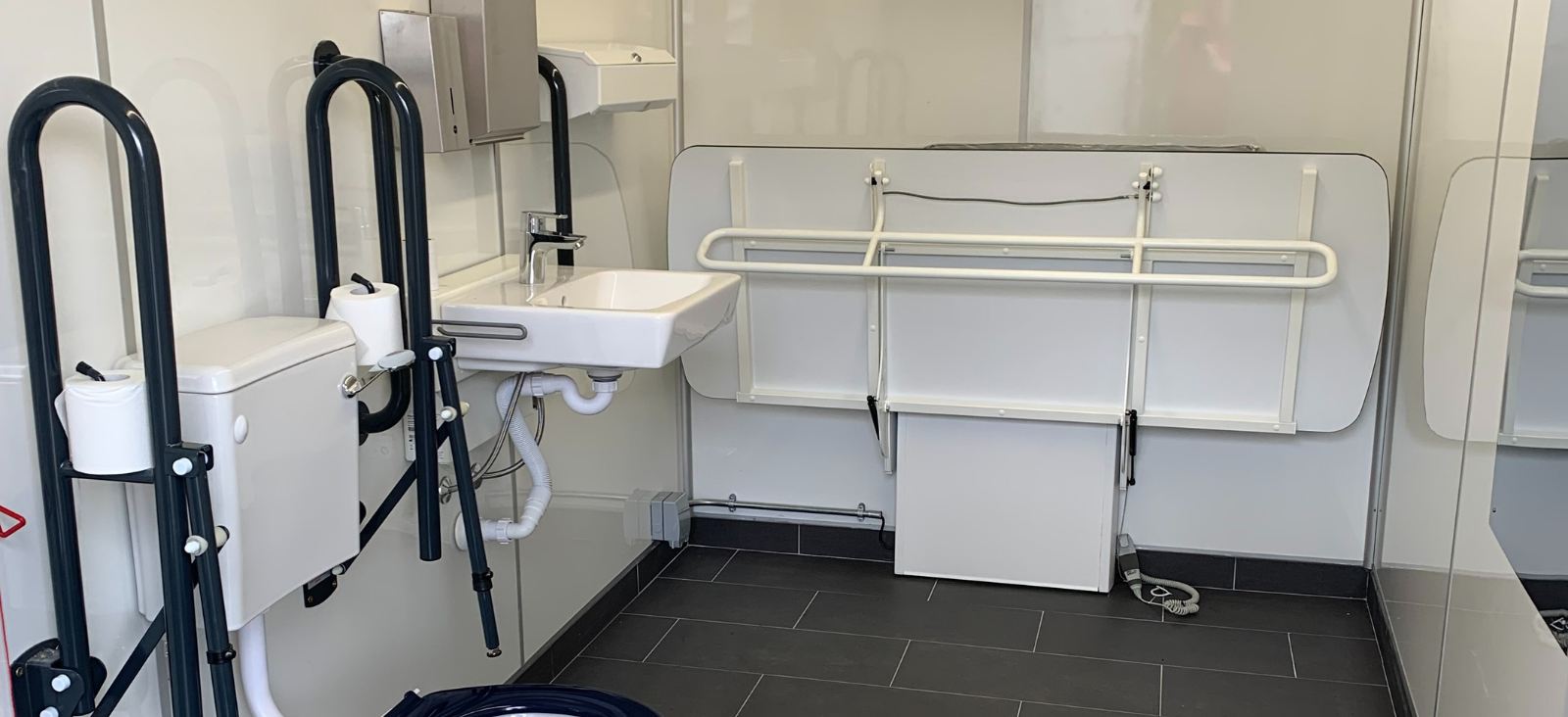 New Space to Change and refurbished toilets now open in Henley  
A new 'Space to Change' and refurbished public toilets have opened in Henley, meaning that improved facilities are now available for the whole community.
South Oxfordshire District Council has just completed a £145,000 project to upgrade the toilets at Greys Road Car Park.
The work includes a new Space to Change, a specially designed area featuring a wheelchair accessible toilet and a height adjustable adult-sized changing bench and hoist. There are three new separate toilets, including a ladies-only toilet and two uni-sex facilities, one of which has a baby changing table. There is also a new welfare room for car park inspectors and a storage area.
As well as ensuring that public toilets are available for all residents and visitors, the work has improved the look and cleanliness of the facility and is also expected to help reduce maintenance costs.
People can access the Space to Change facility with a RADAR key, a skeleton key which allows disabled people independent access to locked public toilets across the UK.
Cllr Sue Cooper, Cabinet member for Environment, Climate Change and Nature Recovery at South Oxfordshire District Council, said: "Public toilets should be there for everyone in our communities and so I'm pleased that we have been able to upgrade this facility and install a new Space to Change in Henley."
Cllr Ken Arlett, ward councillor for Henley-on-Thames, said: "It's incredibly important that we make Henley as accessible as possible for all residents and visitors, so the Space to Change really is an important addition to the town."
Cllr Stefan Gawrysiak, ward councillor for Henley-on-Thames, said: "I'm really pleased with the completed work, the refurbished toilets are a big improvement to what we had before."
Cllr Kellie Hinton, ward councillor for Henley-on-Thames, said: "While public finances are tight, it's great that we can continue improve public facilities in Henley and help to help guarantee that they are there for everyone in our community."
Notes for editors
RADAR keys are available on request from the district and town councils and are also available for purchase from a number of online stores.
£45,000 of the funding for this project came from Community Infrastructure Levy contributions the council secured from housing developers to help fund community facilities in the area.