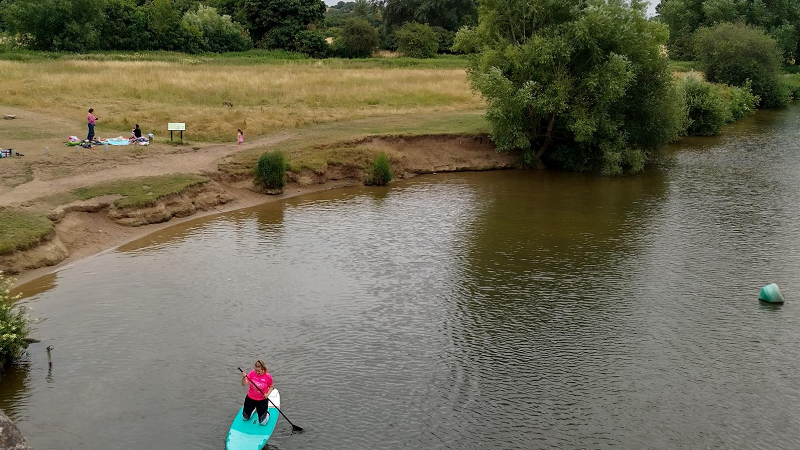 Application could drive water quality improvements in Wallingford
A joint application to help tackle pollution will lead to a safer swim for swimmers, river users and wildlife in Wallingford.
South Oxfordshire District Council and Wallingford Town Council, supported by environmental charity Thames21, have submitted an application to the Department for Environment, Food and Rural Affairs (Defra) for bathing water status for a stretch of the River Thames at Wallingford.
If bathing water status is awarded, Thames Water would be legally required to treat waste outflows to a much higher standard. This would ensure that bacteria harmful to the health of people and wildlife would be removed before the water can be released into the river.
During the bathing season, from May to September each year, the Environment Agency would also be required to monitor the water quality. Information from the weekly testing would give visitors, including swimmers, rowers and anglers, a clearer picture of how clean the water is likely to be.
Throughout the summer, to help inform the application, Thames21 and trained volunteers from the local community recorded visitor numbers and collected 170 water quality samples along the river which were analysed by Thames Water. Visitors to the area were also asked to complete a survey about their experience at the site and asked whether they support the application.
It is hoped that Defra will make their decision on the application in early 2023.
Cllr Jo Robb, South Oxfordshire District Council's River Thames Champion, said: "The Thames in Wallingford is very popular with visitors and residents, particular over the summer.  The data we've collected so far is already helping us to get a better understanding of water quality in the river. 
"Achieving Bathing Water Status will not solve all pollution problems. However, if our application is successful, it would guarantee ongoing testing during the bathing season and drive the investment needed to help create a cleaner river for people and wildlife."
The Mayor of Wallingford, Cllr Marcus Harris, said: "Wallingford won its sought-after curfew extension and countless other privileges by permitting William the Conqueror to ford the river Thames here in 1066. To this day, our river and beach areas remain key to the beauty and enjoyment of our town for residents and visitors alike. This is why we are proud to be applying for Bathing Water Status, which, if we get it, would make us only the third place in England to have achieved it."
Stephen Haywood, Natural Flood Management Programme Manager at Thames21, said: "The level of support received from the community has been amazing and is a clear representation of how much the River Thames means to Wallingford.
"The data collected has helped us to understand sources of pollution and the effects on Wallingford Beach. Throughout the summer, the evidence shows that the bathing site was safe to use but this may not always be the case.
"With or without a designation this project has opened the door for further research and the implementation of solutions upstream to reduce the effects further.  Nevertheless, we hope our application, if successful, will be part of the growing movement to clean up our rivers nationwide and accelerate investment by water companies to protect them as beautiful, precious natural places – not a place for raw sewage."