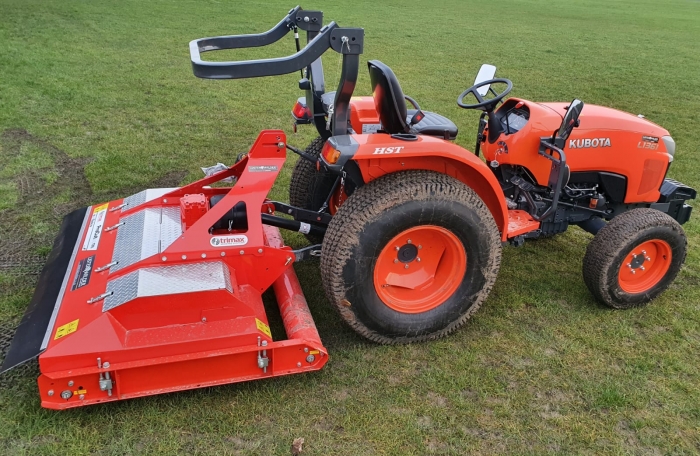 Over £26,000 given to improve Chinnor football pitches
Chinnor Youth Football Club have received a big boost of £26,377 to help keep their pitches in good condition thanks to an agreement South Oxfordshire District Council struck with a housing developer building homes nearby.
The funds are from developer contributions for the new homes at the former Chinnor Garden Centre in Thame Road and the land off Lower Icknield Way. The developer must commit to providing funds for infrastructure and community facilities as part of the agreement with the council before they get planning permission.
The club have used the money to purchase new equipment to help improve the drainage on Whites Field – an area that has suffered from a draining issue that has caused regular flooding for years. The club have bought a new tractor, mower and multi-use tools to help teams to train and play matches all year round rather than rearranging matches and spending club funds to play at other locations.
Cllr Robin Bennett, Cabinet member for regeneration and development at South Oxfordshire District Council, said, "It's important that developers help to improve local community facilities to benefit all residents in the areas they're building in. We urge more community groups and parish councils to apply for support from developer contributions via our website."
Cllr Lynn Lloyd, district councillor for Chinnor, said, "I'm delighted that the football club are able to buy new equipment to help improve the field – it'll ensure the teams will be able to play their matches on Whites Fields instead of using up to £1,000 of vital club funds each season to hire alternative pitches."
Cllr Ian White, fellow district councillor said, "The improved playing fields back onto the new homes built just off Thame Road and, for new residents moving in, it means they'll have an inviting open space on their doorstep to go to relax and meet other families living in the local area."
Terry Devine, Executive Chairman at Chinnor Youth FC said, "I'm delighted to receive this funding to purchase the new equipment to improve the quality of our pitches, each year our pitches flood, we will be able to maintain our pitches and allow more games to be played. I would like to thank the developers and South Oxfordshire District Council for arranging the agreement and Chinnor Parish Council for their assistance and ongoing support."
More information on how to apply for developer contribution funds, visit southoxon.gov.uk/section106