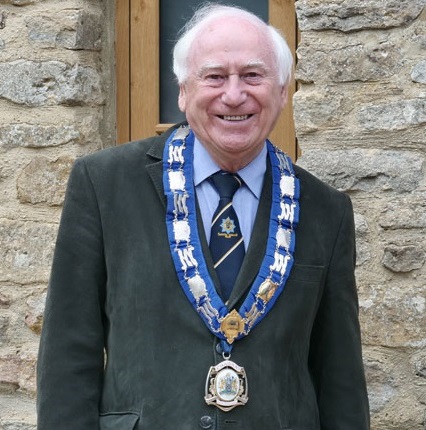 New Chair appointed, as motions to help reduce energy bills and a review of the process to consider planning applications also agreed at busy Council meeting
A new Chair, helping residents reduce their energy bills and planning were all on the agenda at a jam-packed South Oxfordshire District Council meeting.
At the top of the meeting, Cllr David Turner, who has been a district councillor for Chalgrove since 1995, took on the role of Chair of the Council for the second time having previously been Chair in 1999-2000. He takes over from Cllr Jo Robb, who will continue her role of Thames Champion and representing Woodcote and Rotherfield at district council meetings.
Cllr David Rouane, Leader of South Oxfordshire District Council, said, "On behalf of the Council, I'd like to give our heartfelt thanks to Cllr Jo Robb for her commitment and enthusiasm during her time as Chair and would also like to say congratulations and welcome Cllr David Turner on becoming our new Chair of the Council."
Cllr Turner will now supervise Council meetings throughout the year to help ensure business is carried out efficiently and within the interests of the local community.
As Chair, he will also be a representative at various formal meetings and events, and is able to raise funds for his two chosen charities:
First Steps Family Hubs, two much-valued children's centres that serve several villages in and around Chalgrove and Watlington for children aged up to four years old
The River Thame Conservation Trust, a charity that operates along the river helping to restore the ecology, wildlife to its former glory
Cllr Turner said, "I feel very honoured and excited to be Chair and am very much looking forward to getting out and about to meet residents and community groups, especially those that have helped support those in need during the pandemic.
"I'm excited to raise funds for my two chosen charities too. The family hubs are vital for families living in a rural setting – particularly over the past two years people have felt somewhat cut off from others, so this service can be a lifeline for local young families. I also plan to raise funds for the conservation trust to help them to continue with building more natural habitats for wildlife and improving the quality of the water throughout the length of the river."
Along with the new Chair, Cllr Kellie Hinton was appointed as the new Vice Chair of the Council. Cllr Hinton is a district councillor for Henley-on-Thames and will provide support and assistance to the Chair.
At the same Council meeting, two motions were approved. A motion to act on retrofitting of homes and responding to fuel poverty was proposed by Cllr Sue Roberts and seconded by Cllr Elizabeth Gillespie. This follows a letter that was sent to the government in October 2021 noting the need to retrofit homes and providing a report on the retrofit landscape.
The motion claimed that, with the cost of living set to increase, the government is not doing enough to help residents to insulate and retrofit their homes to help reduce energy consumption and to introduce renewable energy.
The Leader will write to the Chair of the Environmental Audit Committee and to relevant government departments to request that a high-level strategy be created for mass retrofitting of homes. It was also agreed at the meeting to ask Cabinet to ensure that the council:
continues to provide an advice-line on what to do if you cannot afford your household bills
make this advice-line prominent – top position – on our website
provide guidance and signposting on retrofitting to residents, especially those most at risk of fuel poverty
The second motion approved was to review the call-in period for planning applications. This was proposed by Councillor Ken Arlett and seconded by Councillor Stefan Gawrysiak. Currently there is no ability for a councillor to call-in an application that has been amended after the 28-day call-in period. The only way to make the changes to this rule, is through the Council's constitution. The Constitution Review Group, who look after the constitution, will now review whether the exception should be extended to allow a councillor to call-in an amended planning application after the 28-day period.
ENDS
Photo is of Cllr David Turner – Photo credit: John Tolson
18 October 2021 letter to the government can be found via https://www.southoxon.gov.uk/wp-content/uploads/sites/2/2021/10/Letter-to-DLUHC-Planning-.pdf
August 2021 Councils' report on retrofitting homes task and finish group can be found via https://www.southoxon.gov.uk/wp-content/uploads/sites/2/2021/10/Retrofitting-Homes-Task-and-Finish-Group.pdf