Joint Local Plan 2041
South Oxfordshire and Vale of White Horse district councils have reaffirmed our commitment to work on a Joint Local Plan which will guide the kinds of new housing and jobs needed and where they should go, informing planning application decisions for the districts. In the Joint Local Plan we will develop planning policies that help address the climate emergency, restore nature, and meet the needs of our residents, such as delivering genuinely affordable low-carbon homes with the right infrastructure to go with it.
Latest news
We have analysed the responses from the Joint Local Plan Issues Consultation and produced a report on what you told us. You can find out more in the 'Issues Consultation' section below.
Landscape Character Assessment – consultation now closed
To support our work for the emerging Joint Local Plan, we're preparing a new Landscape Character Assessment. This study is being carried out by environmental consultancy Land Use Consultants (LUC) on behalf of both South Oxfordshire and Vale of White Horse District Councils.
As part of this study, we called for residents, businesses and visitors to share what you love about our local landscapes and what you think is changing them. Find out more about the study here.
Our Priorities for the Joint Local Plan
A message from Cllrs Anne-Marie Simpson and Debby Hallett, Cabinet Members for Planning at South Oxfordshire and the Vale:
"In May 2021, we adopted the Oxfordshire Strategic Vision, which all the other Oxfordshire Councils signed up to as well. Although joint work on the Oxfordshire Plan has ended, we are serious about pressing forward with developing strategies and planning policies to deliver this vision.
Importantly, we agree with 'Good Growth', not growth at all costs. For us this means making sure development in the district really is 'development', as in something that makes our districts better. It should be about improving people's wellbeing and leading the way in transitioning to a low carbon future, rather than making decisions on growth for the sake of serving narrow targets for the numbers of homes and jobs and economic output.
We will take these 'Guiding Principles' for Good Growth from the Oxfordshire Strategic Vision to inspire and help shape the Joint Local Plan:
We will seek to reverse the impacts of climate change
We will create the conditions to support a world-leading and innovation-rich economy which is clean, prosperous, diverse, inclusive, successful and sustainable
We will improve our overall health and wellbeing and reduce inequalities
We will enhance our natural environment
We will reflect our distinctive and diverse communities and places
We will deliver homes that meet the needs of current and future generations
We will embrace technological changes
We will expect high-quality development
We will maximise the benefits of strong collaboration
We will help people to help each other by supporting communities and individuals to achieve positive change for themselves
The focus of the Joint Local Plan will be different from the last local plan
Working to these Good Growth principles means thinking radically about how much development we plan, where it is located and how it is done.
Rather than more of the same kind of development we've seen in recent years, we will focus on delivering homes to meet the actual local need.
We will look at the number of and types of homes, their affordability and the energy efficiency standards they need to meet.
We will use the opportunities we have through the planning system to protect nature and increase nature recovery.
We will help tackle climate change by reducing carbon emissions, recognising this as an emergency and in line with our ambition to become zero carbon districts.
We will focus on community health and wellbeing and locate new homes near to work places and community facilities.
We will work hard to secure new and improved social and physical infrastructure to support development, ensuring that developers contribute a fair share of the cost.
How we'll make the plan
We will strive to listen to residents and make it easier for them to contribute their ideas.
Whilst creating the new Joint Local Plan, we know that we'll have to mesh our ambitions with the rigorous testing of the plan that will happen when it is examined by an independent Planning Inspector. We'll need to provide a positive vision for the future of our areas and a framework for addressing housing needs and other economic, social and environmental priorities. We will develop the plan in discussion with others, including our neighbours. We will embrace these challenges and welcome your feedback on how we are doing."
Issues Consultation
You told us
We carried out a public consultation asking for your thoughts on the main issues facing our districts and how we could use the Joint Local Plan to address them. Our Joint Local Plan Issues consultation was open from 12 May until 23 June 2022.
We have analysed the responses and are now sharing what you told us.
To show the results we have made some updates to our interactive Issues Consultation website. As you explore this interactive website you will see snapshots of the results and links to the full consultation results document for further details.
We've also produced a full 'Issues Consultation Results' document here if you prefer a more traditional document format.
Issues Consultation documents
In May 2022, we launched an innovative new interactive website for this consultation, with interactive maps, a video and images. It was designed to work on a tablet, computer or mobile phone, although for those who prefer a more traditional document, there was also a PDF version of the Joint Local Plan Issues consultation.
We also consulted on other documents alongside the Joint Local Plan Issues consultation – these were:
We also prepared:
A Public Notice – which provides details on this consultation and data protection, and
What happens next
Your views from the Issues consultation are helping to shape the draft of the Joint Local Plan for South Oxfordshire and Vale of White Horse. We want to hear your views at each stage of preparation. Early in 2024, we expect to publish a Joint Local Plan 'Preferred Options' consultation document that will set out proposed policies and any proposed sites for development. We'll then ask you for your views again on these 'Preferred Options'.
Further Background
Current Local Plans
You can find both councils' current Local Plans, which the new Joint Local Plan will replace once adopted, using the links below:
Timetable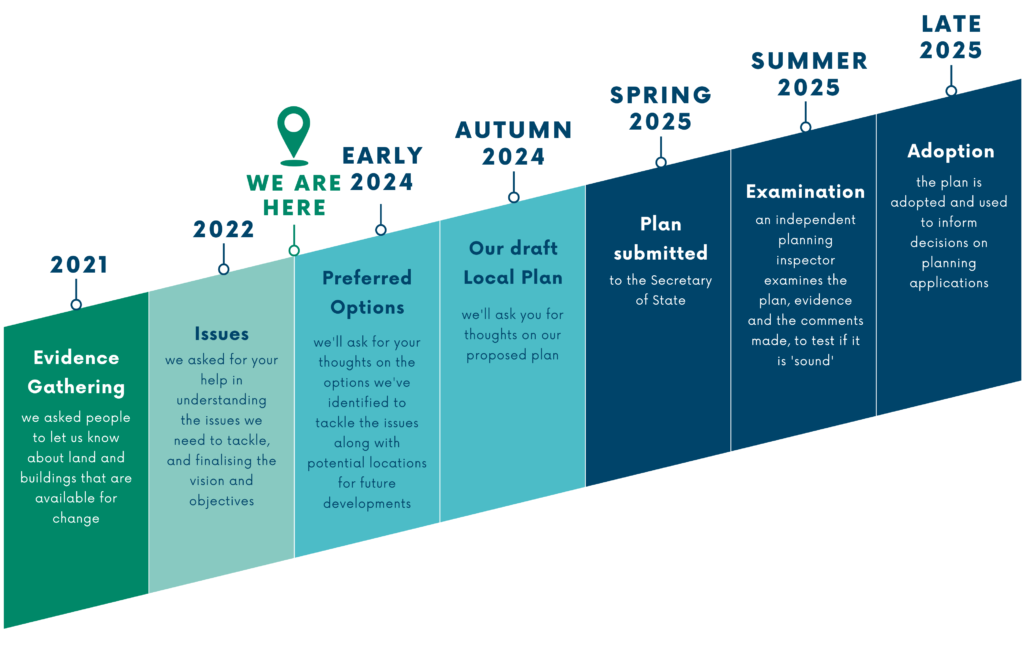 If you would like to know more about the timetable for preparing the Joint Local Plan and when we will be consulting you, please take a look at our Local Development Scheme, September 2023. It sets out the timetable for producing new planning policy documents, including key production and public consultation stages. The Local Development Scheme contains the most up to date Joint Local Plan timeline so please refer to this rather than the Issues Consultation for reference to timelines.
You can read the Joint Local Plan governance arrangements, May 2022, on our webpage. This document sets out the operational and decision-making structures for the Joint Local Plan 2041.
Keep up to date with the latest Joint Local Plan news:
If you'd like to receive planning policy consultations and updates (including those about the Joint Local Plan and Supplementary Planning Documents) and/or general council consultation notifications, please register your details using our sign up form.
Call for Land and Buildings Available for Change
Between 19 August and 30 September 2021 we invited landowners, agents, developers, community groups and others who were interested in having land considered for development, to submit information to the Councils on the sites they wanted to be assessed as part of the Joint Local Plan. Submissions made through this exercise supplement sites previously submitted as part of the Vale of White Horse Call for Sites which took place in 2020.
The boundaries of the land and buildings submitted as part of these exercises, along with some high level information about these sites, can be found on our interactive Call for Land and Buildings Available for Change webpage.
Contact us - Planning policy
South Oxfordshire District Council
Abbey House
Abbey Close
Abingdon
OX14 3JE