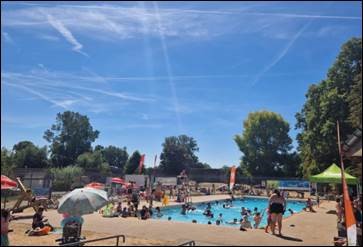 A successful summer season at Riverside
This year the Riverside Park outdoor pool and campsite in Wallingford had a bumper summer season with nearly 21,000 visitors.
On its busiest week, the pool had nearly 4,500 visitors, the highest number in over 20 years for a single week.
The pool and campsite opened for the season this year from late May through to early September and this season South Oxfordshire District Council in partnership with GLL, who manage the site and Better UK facilities for the council, introduced some new activities and initiatives for those using the pool and campsite.
These included aqua aerobics classes, Swim Dr swimming lessons, the ability to book the campsite via the Better UK app and dogs were also allowed on to the campsite resulting in an increase in bookings.
Visitors to the pool and campsite praised the facilities
"The team there has been fantastic, friendly and helpful, and I really feel that I am in much ' better shape, health and fitness than I was at the start of the swimming season, thanks to the open-air pool."
"I can't fault your welcoming, pleasant and positive attitude."
"There have been many improvements this year, the swim doctor is a real positive addition, and the weekly aqua is very popular."
Cllr Maggie Filipova-Rivers, Cabinet Member for Community Wellbeing at South Oxfordshire District Council said: "This is such a popular facility and I'm really pleased to see that it had so many visitors this summer. It helped that we had good weather but even during the slightly rainy days there were people using the pool.
"The health and wellbeing of our residents is very important to us, and we will continue to work hard with Better UK to keep it running to a high standard and making it accessible to everyone."
Improving facilities
Refurbishment work has also been carried out by the council to improve facilities such as installing LED lighting in the main changing area, which not only saves energy but makes the area nicer for customers and adding a new ping pong table which was a hit with many customers. Further improvements are planned for the area including the purchase of a pool cover which will keep the water warm and help to reduce running costs, outdoor cinema nights at the campsite area and a new catering kiosk.