Didcot Garden Town – updates
Since being awarded garden town status, Didcot and its surrounding villages have started to transform into a better connected and sustainable hub for Southern Oxfordshire.
The Didcot Garden Town Advisory Board oversee the delivery plan and projects.
Latest news:
Business Sounding Board
Our next Business Sounding Board is taking place at 4.30pm – 6pm on Monday 13 September. You can see the agenda here and register to attend here.
Newsletter
On your Doorstep map now available
We've worked together with Didcot Town Council, local parish councils, community groups and centres to create a 'On your Doorstep' map of interesting things. This beautiful map illustrates some of art works, trails and cultural and historical places in and around Didcot Garden Town. You can also find paper copies of the map at Cornerstone.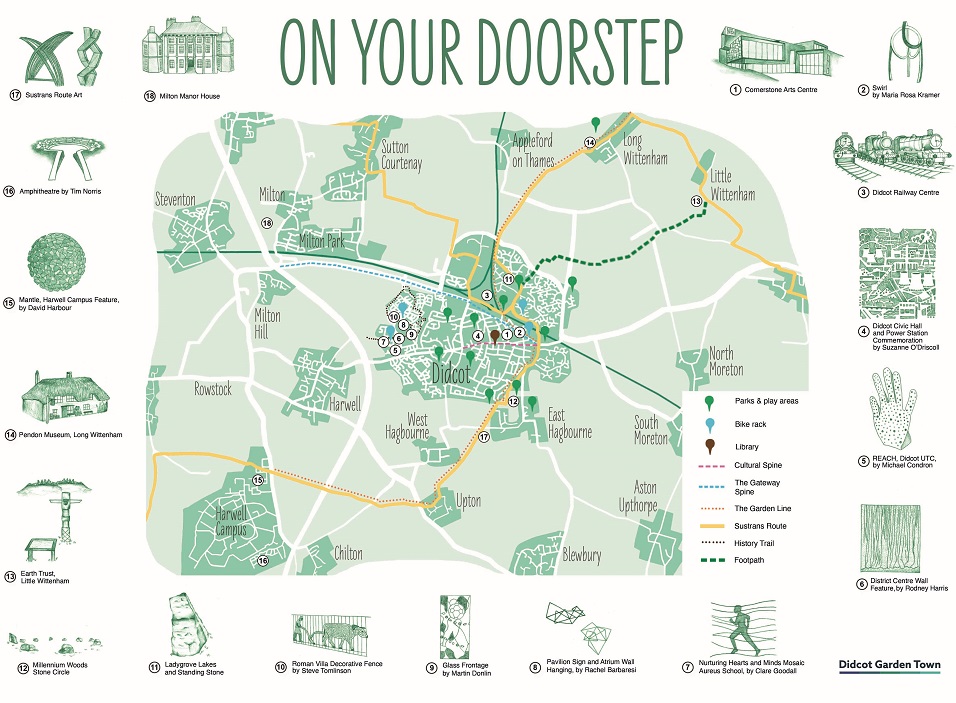 Didcot Garden Party is coming! Cornerstone and the Didcot Garden Town team have joined forces to bring you a summer long programme of exciting activities for all the family from Parkour to science experiments! Check out the Cornerstone website to see what's happening every weekend from 24 July to 4 September.
Didcot Garden Town Advisory Board meeting
Our last board meeting took place on 26 July – you can see the agenda here and watch the meeting in full here.
Resident Sounding Board
We held our Resident Sounding Board on 24 May. We will provide a link for you to watch a recording of the online meeting as soon as we can.
Watch the recording of our November meeting here.
Parish Sounding Board
On 22 September, we held our first ever Parish Council Sounding Board to find out their views on the Didcot Garden Town. During the meeting, officers provided a presentation to update everyone attending. Here's a summary of the feedback the parish councils gave us.
Sign up to our newsletter
You can stay up to date with on all the latest announcements by signing up to receive our newsletters by contacting the Didcot Garden Town team.
Contact us - Didcot Garden Town
South Oxfordshire District Council
135 Eastern Avenue
Milton Park
Milton
OX14 4SB