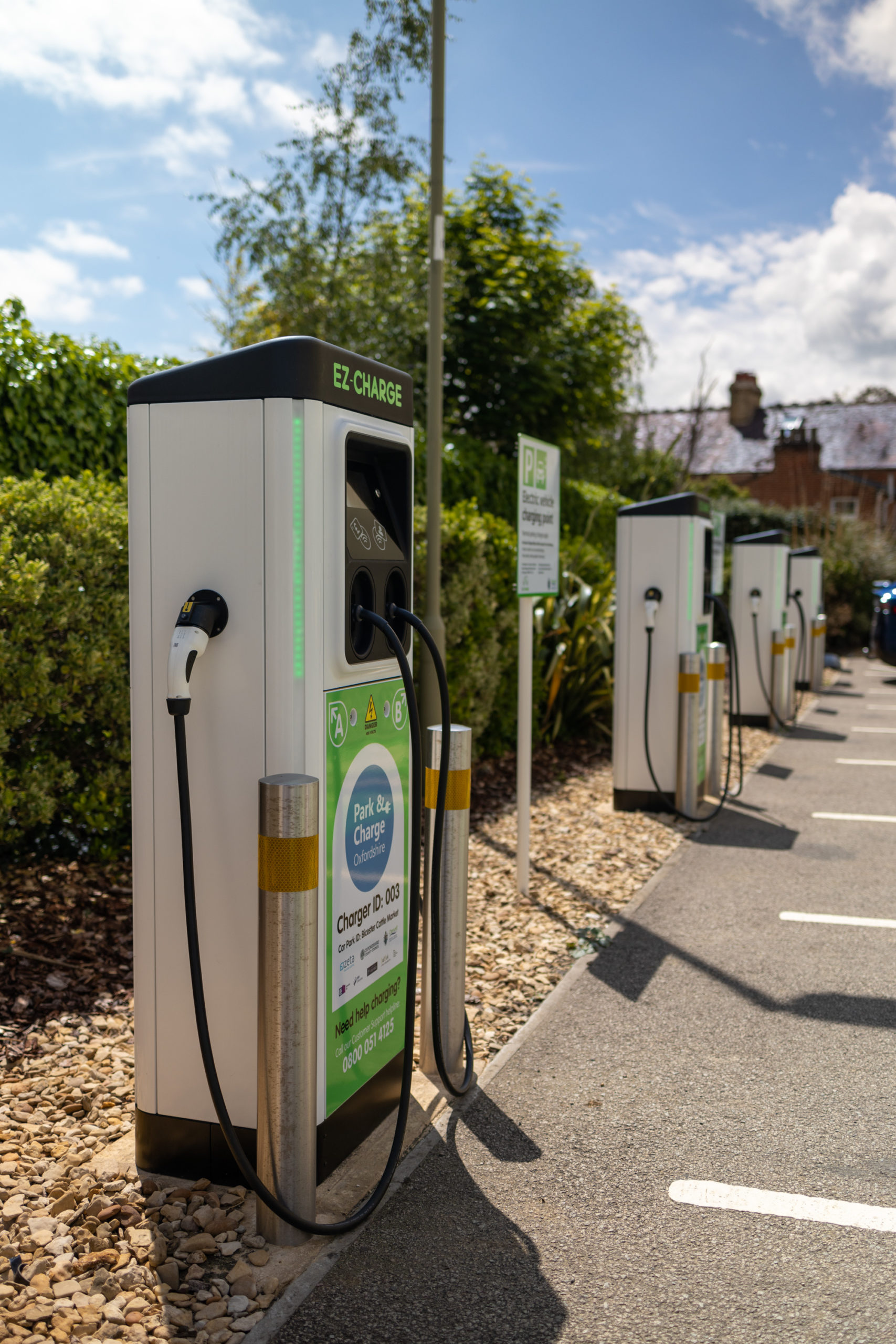 First Electric Vehicle Charging Points Go Live
The first of a series of 62 EV chargers which have been installed in council-run car parks across South Oxfordshire are now up and running.
The chargers – which have been installed as part of the county-wide Park and Charge scheme – are ready to use by EV owners in the council-run car park in Cattlemarket, Wallingford.
In total 12 chargers are now available with the remaining 50 due to come online in the next few weeks at other council-run car parks in Greys Road and Kings Road in Henley, Goldsmith's Lane, Wallingford and Southern Road, Thame.
The chargers will work from 7kW up to 22kW depending on the vehicle, time of day and the EV hub take-up. You will also be able to reserve charging bays so EV drivers can be assured of being able to charge on arrival.
More information about the chargers can be found here parkandchargeoxfordshire.co.uk.
Councillor Sue Cooper, Cabinet Member for environment, climate change and nature recovery at South Oxfordshire District Council, said: "Developing the infrastructure to support residents with electric vehicles is among our plans to tackle the climate emergency and this is now being delivered. Emboldened by this we must continue to build on this success."
The new chargers have been designed and produced by local Bicester-based company – EZ Charge – who will operate the chargers going forward. More details on how to use the chargers and the Park and Charge scheme is available on the park and charge website.
Under the Park and Charge scheme 62 EV chargers are also being installed in Vale of White Horse district in council-run car parks in Abingdon, Faringdon and Wantage. Park and Charge EV chargers are also available in Cherwell and West Oxfordshire. For more details see parkandchargeoxfordshire.co.uk.
EV Events
Friday 10 June from 9am-12pm – at Greys Road car park in Henley
Friday 10 June from 1pm-4pm – at Cattlemarket in Wallingford
At these events people will get the opportunity to meet the project team, check out the new chargers, talk to EV experts and EV Champions, and to test drive (tbc) a range of EVs to suit all budgets. There is even FREE EV charging sessions on offer at each event for the first ten EV drivers.
Notes to editors
Each car park will offer both 'tethered' and 'socketed' chargers, which means all EV drivers can use them, whether they have Type 1 or Type 2 connections.
The Park and Charge Oxfordshire project has attracted £5.4m of funding, with £4.1m being funded through the Office for Zero Emission Vehicles via Innovate UK and the On-Street Residential Chargepoint Scheme. The remaining investment has come from commercial partners Zeta Specialist Lighting and [ui!] UK (Urban Integrated).
South and Vale councils are looking to identify more rural locations in the districts where EV charging points could be installed to offer the service and options to change for more people.
The launch had been temporarily delayed by a global shortage of microchips for the meters, fortunately the installation team worked hard to source the necessary components and the start date was put back by just a couple of weeks rather than months.